KyungBYoon
BREAKING BARRIERS: KYUNG B. YOON

I was born after the Korean War and left the country when I was six years old to come to America. Korea at the time was a very poor country, so my family's worldview came from a place of gratitude for being in this country of opportunity. Our mindset may not have initially been focused on giving back, but having been raised in a Christian household, the values of giving and helping others were ingrained in me.
After immigrating to America, I witnessed the rapid economic development of my mother country and grew fascinated with understanding what propels such economic growth and transformation in communities and nations. I got my master's degree in economic development and started my first job at the World Bank. But I could not put aside a nagging desire to pursue journalism. so I took a leap of faith and quit my job to move to New York, where I worked my way up from fetching coffee to becoming an on-air correspondent at Fox Channel 5. Years later, I returned to the World Bank as an executive producer of television to create and host a global documentary series focused on poverty, which combined my two passions of storytelling and economic development. I learned how fulfilling it was to find an opportunity to do something that aligned my talents with the impact I wanted to make in the world.
After being bullied throughout elementary school for my "weird" name, KYUNG BOK, I started going by the name KAREN. But when I got my first break on television as a news reporter on Channel 5 in New York, I spent some time thinking about what my television moniker should be. My news director and well-meaning friends told me that KAREN YOON would be a much more telegenic and "TV-friendly" name than "KYUNG YOON."
But I thought back to when I was growing up, and what a difference it would have made to my six-year-old self if I had seen someone with a name and a face like mine. So that was the beginning of Kyung Yoon, Fox 5 News.

Many of us have often faced this kind of pressure to assimilate to feel like we belong here. But I learned that it is important for us to proudly embrace our heritage and identity from which we can draw the strength to make a unique impact. Being able to empathize with the struggles of others and to have lived their experiences is what makes KACF special. KACF is the largest philanthropic organization in the U.S. dedicated to strengthening Korean American communities. We also fund impactful, grassroots organizations that are often overlooked by mainstream funders. But we have been able to do this work because our leadership and staff, as well as our donor and volunteer community, have always reflected the community we serve.
Philanthropy is not about random acts of kindness, but it is a practice that needs to be built.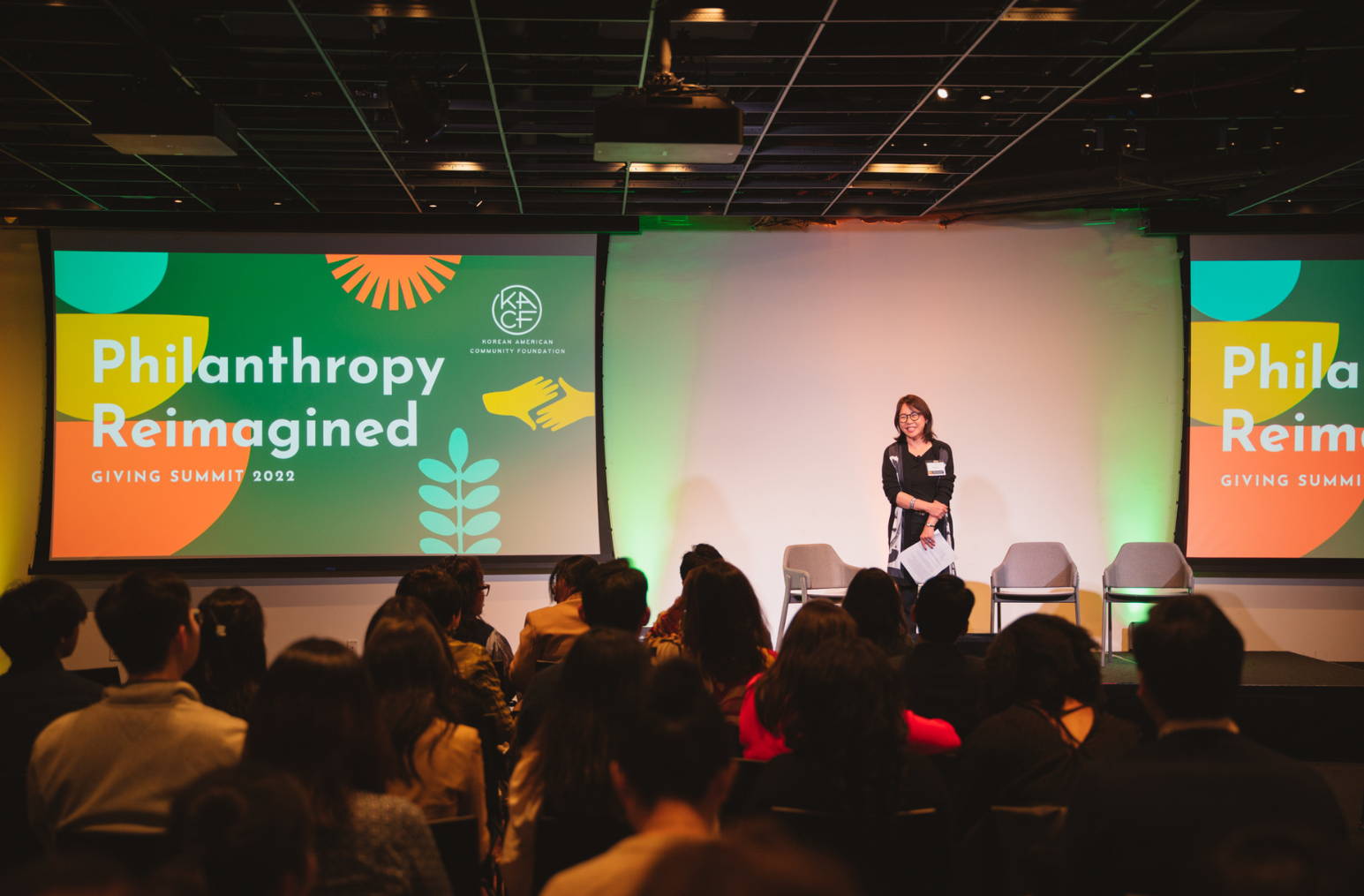 During the pandemic, we committed to increasing our grantmaking because we knew it was time to do more. After speaking with our grantee partners to assess their needs, KACF quickly mobilized our donor community. We were able to distribute over $1 million in grants to nonprofits that were providing short and long-term support to low-income families–organizations helping people put food on their tables, apply for unemployment benefits and small business loans, providing mental health services, and operating bilingual hotlines to respond to domestic violence or help navigate COVID-19 information and resources. Establishing the trust, relationships, and responsiveness required to make this possible did not happen overnight or by chance. We've been intentionally building this philanthropic muscle in our community for the past 20 years to prepare ourselves to make a meaningful impact in response to any challenges or crises our community may come to face.
I've worn several different hats throughout my career, which has prepared me for the role I am in today. At KACF, I continue to use my education, my work in poverty alleviation, and my communications expertise to make a difference in ways that I did not expect. Feeling like I am uniquely equipped to make a difference in my community has been an enormous source of purpose and grounding. What also helps ground me is gratitude. As a Christian, I pray and reflect regularly, which gives me a chance to practice it with intention every day.
In the ideal world, we would have solved the problem of economic insecurity, and all members of our community would be self-sufficient and thriving. The reality is that none of us can wave a wand and single-handedly make the world a perfect place. But what we do have, is the empathy to work together towards building a thriving community for all.
---
SIGN UP FOR OUR NEWSLETTER
Never miss a nunchi moment - delivered directly to your inbox.