Kelcie Glass
BREAKING BARRIERS: KELCIE GLASS

Tell us about your mission.
Each year, as my business has grown and evolved, my mission has become clearer. Influenced by the organizations and businesses that trust my marketing expertise, refer and recommend me to their colleagues, and pour into me so that I feel valued has led me to a mission of supporting people of color run companies, progressive organizations, and unions that fight for the rights of dedicated employees.
My mission is to share and implement resources and tools that help them cut costs, while growing their communities, membership, and revenue. My mission is to also be visible in elitist/unwelcoming spaces. It is no coincidence that, as a Black woman, these are the types of organizations that choose to work with me. Because of this, I show up in my Blackest and truest form, in spaces and events where I am the minority, ensuring that not only similar voices are heard, but that it is clear that our voices are different, layered, and individually important.
Why does your mission matter?
My mission, and the mission of women who do similar work, matters because we are accomplishing several different things at the same time. 1) We are empowering small businesses, POC led brands, and progressive organizations to feel confident in the work they are dedicating their lives to. 2) We are amplifying this important work ensuring that it is sustainable for years to come. 3) We are providing tools, resources, and in many cases training that can help them grow and meet their goals.
At the end of the day, working with individuals who respect you and value your mission creates real change.
What is your vision for your work?
My ultimate goal is to provide more jobs, roles, and economic opportunities for women and men who do similar work. It's giving Capricorn toxic work and money energy (lol), but I feel the most fulfilled when I can offer someone a contract, a new revenue stream, or bring them on to a great project. I understand how rewarding that is, and sometimes, life changing.
I hope by the end of 2023, I will have launched a larger agency whose sole purpose is to provide these types of opportunities for other service providers and entrepreneurs.
What led you here?

You know, I am not sure what led me here, but I do often lean into the fact that it has been heavily influenced by my family. My mom and dad are self-made Black people who have always valued education and character. Although they were not entrepreneurs and instead had very successful professional careers, they have always supported my goals and dreams to be a business owner.
When I thought they would be disappointed or would want me to go a different route, they continued to surprise me and even help me along the way buying cameras, equipment, or anything I needed to be successful.
My partner has also been a huge influence on my success. She is the ultimate creative and partners with me to get campaigns created and designed for clients. She pours into me every single day and keeps me motivated without even trying. Between my family and my partner, I couldn't be more loved and supported.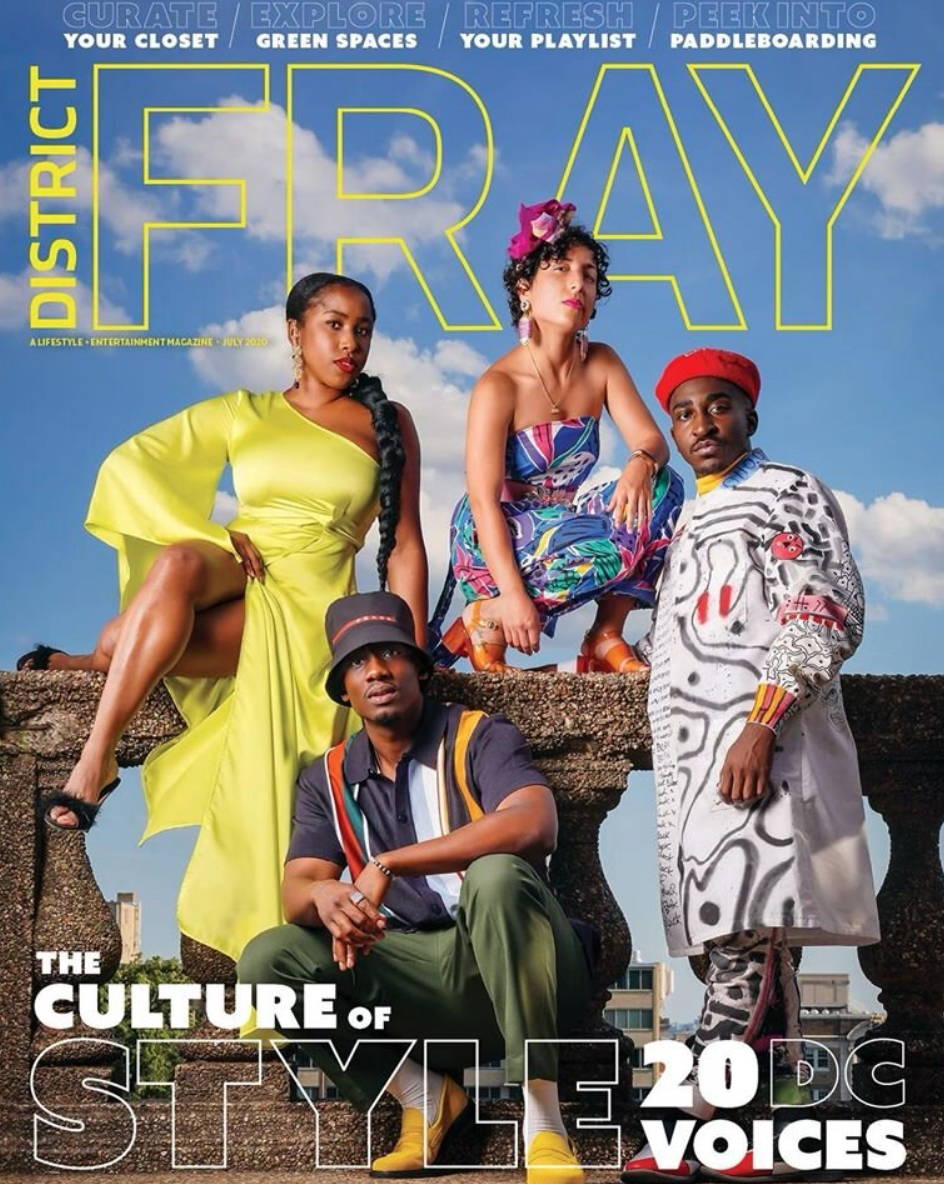 Fashion Editor: Joy Kingsley-Ibeh. Photographed by Tony Powell, District Fray, July 2020.
What's your process in staying grounded?
The thing that keeps me the most grounded, no matter how successful a month or quarter was for me, is the trust that people have in my abilities. There are so many talented individuals in the world, and as an entrepreneur, I understand that you have choices. I feel honored to be chosen and have a strong admiration for the brands and organizations I partner with.
I need to be better about maintaining routines and mindfulness, but working out in the morning gives me the natural high I need to start the day off productively. Contrary to working out, a glass of red wine at the end of the day is also part of that routine, lol!
Did your mission ever become a catalyst for self-discovery and/or self-love?
Discovering my mission definitely coincided with self-love and self-discovery. When I realized that I didn't have to shrink myself, could choose the types of clients I wanted to work with, and could make the type of income I dreamed about, I felt like my mission was realized. I learned that as layered as I am and as rough (figuratively lol), as I can sometimes be, understanding how to translate those characteristics into work that positively impacts organizations was so rewarding.
Fortunately and unfortunately, my identity means everything to me and everything to everyone else. The things that I care about, the people who I want to work with and uplift, the way I move through professional spaces, is largely based on my identity. In the digital age, individuals have shown their true selves. I am glad the curtains have been pulled back and I am able to get the information I need upfront to know whether you will respect my identity and value my thoughts.
What's your definition of purpose?
I think a purpose filled life means different things to everyone. For me, it's two-fold. It is a life where you don't ever have to question the integrity of the people around you, and a life where you don't have to make decisions out of need but can make them out of want.
Candidly, I also feel the MOST fulfilled when I am well paid. (LOL)
SIGN UP FOR OUR NEWSLETTER
Never miss a nunchi moment - delivered directly to your inbox.