Fouta Harissa
BREAKING BARRIERS: LAMIA HATIRA & ALIA MAHMOUD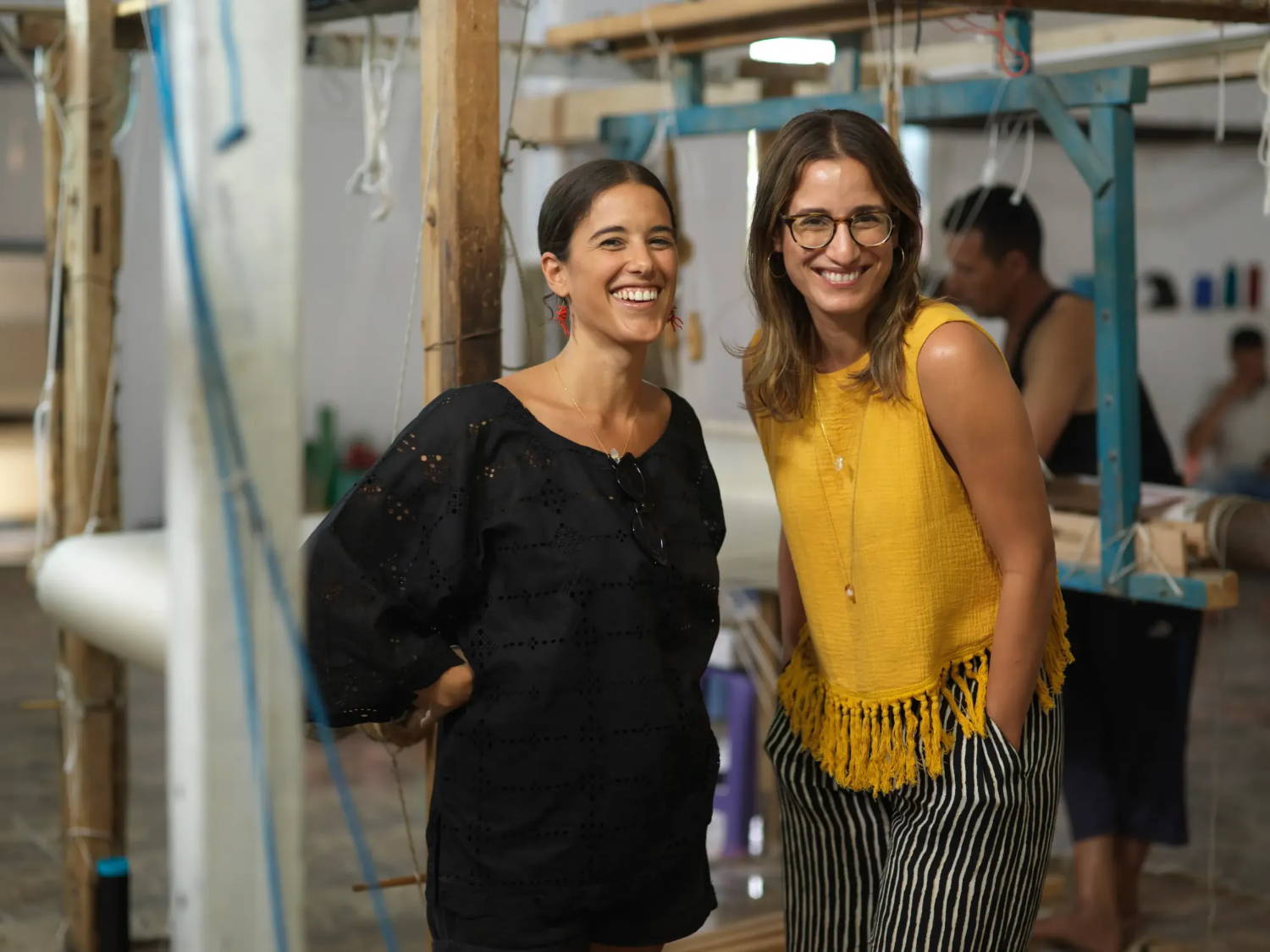 Tell us about your mission.
Fouta Harissa is a women-owned, made-in-Tunisia textile design studio specializing in modern North African foutas. Always handwoven by master artisans from 100% upcycled natural fiber yarn, we focus on transforming artisan futures and pushing the boundaries of sustainability leadership through limited-edition, impeccably designed, aseasonal collections of traditionally hand-loomed textiles.
Our mission is to create beautiful and ethically handmade products that preserve traditional artisanship in Tunisia and offer our customers original and functional pieces for the beach, travel and home.
Why does your mission matter?
In our world of fast-fashion and industrialization, it's increasingly difficult for consumers to find high-quality products with transparent origin and creation stories; just as small, community-sustaining businesses at the heart of many cultures–in our case, traditional Tunisian handweaving–are squeezed out of the market by fast-fashion and industrialized stand-ins.
Fouta Harissa fosters an artisan-first, design-focused approach–paying above living wages, creating apprenticeship programs that grow hand-looming knowledge and presenting traditional craft as a viable career, all while making our small-batch collections of exceptionally crafted foutas and other handwoven textiles available to an expanding base of design- and sustainability-minded customers.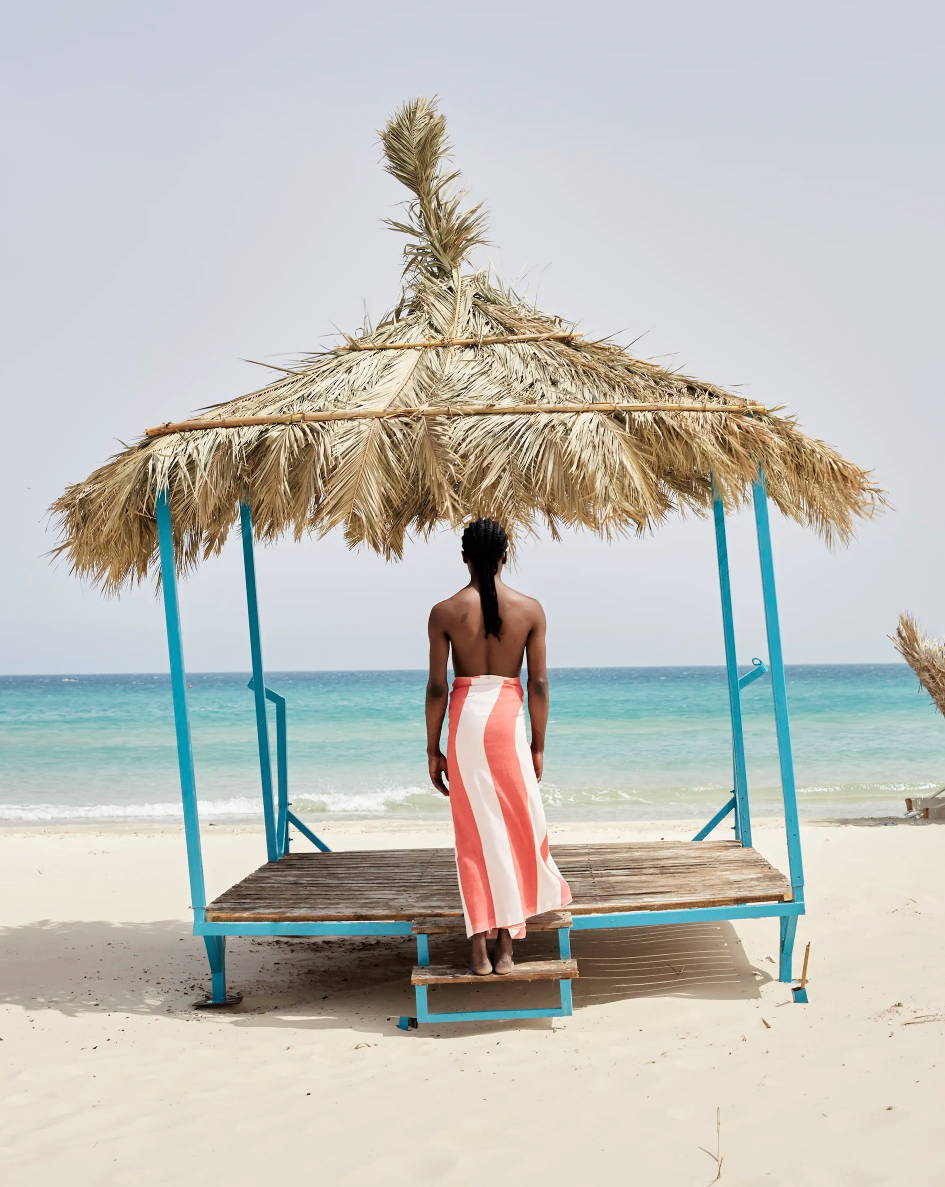 Tell us about your products.
Our signature fouta is a direct descendent of the foutas that have been used in North African hammams and our homes for centuries. Beyond a staple of our childhoods, it's a resilient go-everywhere, do-everything textile that's a towel, a shawl, and a picnic blanket all in one. This cross-context versatility, our unique access to the Tunisian artisan community, and our forward-looking aesthetic makes Fouta Harissa's product line uniquely suited to our, and our customer's modern lives. Since 2019, we've been designing and releasing 3-4 collections each year, adding new products and textures along the way, like throws, blankets, napkins and tablecloths that are just as versatile as the fouta.
How do your roots play a role in your mission?
[Lamia] I grew up in Tunis, Tunisia. This is where my family lives, where my roots are and where I've always been absolutely in love with the country's artisanry and craftsmanship. It's also the source of my harissa and spicy food obsession (hence the name). My father is Tunisian and my mother is from the US - my closeness to them and my proximity and exposure to each of their cultures definitely creates for a specific perspective and perhaps an ease of movement between them, which I think led me to believe I was the right person, along with Alia who shares a similar background, to work with skilled tunisian artisans and bring their creations to the world. I really care about the future of craftsmanship in the country and am committed to being part of its survival and evolution, so here we are. Also, this is a great way to spend months at a time in Tunisia and continuously discover new things in it all whilst calling it a job.
What led you here?  
We, are Tunisian-American, and Fouta Harissa is the union between our heritage and our shared passion for high-quality designs that are as beautiful as they are versatile. With backgrounds in social entrepreneurship and sustainability, we move easily between our two cultures - traveling to Tunisia every year to work directly with our team of artisans, communicating with partners in our dialect of Tunisian Arabic, all while navigating the marketing and competitive sales industry in the US.
How did you come up with the name for your brand?
There is a traditional outfit Tunisian brides from certain regions wear called "Fouta & blusa" (basically wide jeweled pants and a matching crop top) and I like how it sounds in Tunisian arabic and then we really love harissa and the two things we most gift to people outside the country are foutas and harissa. And that's where the name came from long before we knew it would become a "real" brand and company. People love the harissa part so much we decided not to change it.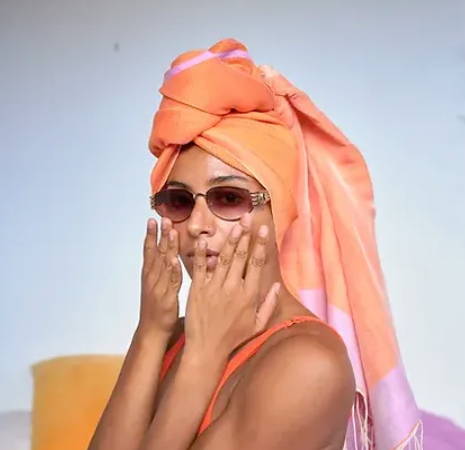 What does sustainability mean to you?
I believe we represent a new generation of American small business founders - one that crosses borders, cultures, languages, and industries. Every day we are driven by a fundamental belief that a successful e-commerce brand can be one that puts people and the planet over fast and unsustainable profits. We are building a business to last a lifetime - one that will support generations of artisan makers and even generations of our own families to come.
From its inception, our goal was to make Fouta Harissa a sustainable social business in every sense of the term. Both Alia and I are students of sustainability, social entrepreneurship and economic development and we believe that companies can indeed do well by doing good. Our investment in artisans and commitment to heritage handweaving techniques in Tunisia is a core part of our approach. Our weaving process requires zero electricity or water and we produce small batch collections to limit excess inventory. But one key aspect remains elusive - sourcing truly sustainable cotton yarn. Cotton is not grown in Tunisia so we rely on deadstock yarn - essentially, unused cotton yarn imported by major clothing brands that manufacture locally. On the one hand, we love this approach because we are upcycling yarn that could end up in landfills, thus engaging in the most sustainable practice possible in this area. On the other hand, this limits our control of the consistency of our raw materials, reliability of quantities and access to the weights we need and colors we want. Most importantly, it prevents us from having full traceability of our raw materials.
Our ultimate goal is to source cotton from regenerative family agriculture practices, giving us full control over our supply chain while contributing to soil regeneration and more resilient farming and food systems. Over the last 3 years, we have been educating ourselves on how to reach our dream supply chain and we have learned firsthand just how difficult that can be for a small business with ambitious environmentally responsible goals, running into obstacles like high minimum order quantities, high costs and duties, certifications for yarn and its dye, and so much more. We are working on solutions like building partnerships with small brands with similar needs to complete purchase of raw materials collectively and to keep exchanging knowledge, working with seed-to-weave supply chain models based on regenerative agricultural practices, and most immediately experimenting with other natural fibers that can be spun and woven, like linen, which is a plant with less impact on the environment.
Every day we learn more about this complex world of yarn sourcing, and the more we learn, the more people we talk to trying to accomplish similar goals, the more solutions we see for a healthier planet, the more hopeful we are that small businesses like ours can have a positive impact on our communities and can influence future entrepreneurs to follow the same path. It will take a lot of work, and we're here for it.
---
SIGN UP FOR OUR NEWSLETTER
Never miss a nunchi moment - delivered directly to your inbox.